MSC Cruises
The Italian shipping company MSC Cruises which began in the 1960s, is currently one of the world's fastest growing cruise lines and has some of the newest ships on the high seas.

Their fleet is composed of 12 boats of last generation, designed to guarantee an unrivaled cruise experience, specializes in itineraries in the Mediterranean which show their familiarity with the region, inside and outside the boat. It also offers spectacular destinations to the north of Europe, the    Caribbean, South Africa, South America and spectacular transatlantic trips in four categories of ships: Mistral, Music, Fantasy and Classical. Their ships are decorated with exquisite elegance, have more rooms with balcony than any other shipping company so their passengers can enjoy the most spectacular sea views. Fascinating, refined and comfortable boats; Light and bright, warm and original colors, MSC Cruises is the  perfect fusion of unique elements, elegance, design and comfort, in a comfortable and harmonious environment. MSC Cruises' ships also have a selection of works of art by important modern and contemporary artists; Sculptures, engravings and paintings have been harmoniously distributed in the common spaces, to the delight of their clientele.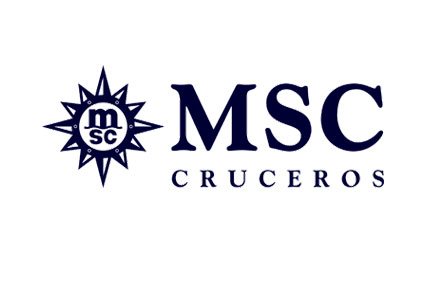 La amable cordialidad mediterránea convierte a cada huésped del MSC Cruceros en un viajero privilegiado al recibir una atención esmerada, con atención en los detalles, del personal de a bordo, altamente calificado, y que constituye un servicio que satisface todas las expectativas, unido a la emoción de un crucero diseñado exclusivamente para el viajero, para experimentar y descubrir un sinfín de alternativas de comodidad, ocio y diversión.

MSC Cruceros, cuenta con Spa, para unas vacaciones dedicadas al bienestar y la belleza, que ofrece tratamientos y programas personalizados, sauna, baño turco, cromoterapia, aromaterapia, masajes, clases de fitness y mucho más.

A bordo de los barcos de MSC Cruceros la diversión no termina nunca. Con un programa de espectáculos sin precedentes estilo Broadway, además, cada noche, presenta un programa diferente: musicales internacionales, canciones clásicas y modernas, mimos, magos y un sinfín de oportunidades para relajarse, socializar y descubrir como clases de baile, música, cabaret, piano bar, casino y entretenimiento.

En MSC Cruceros tendrás muchos momentos para disfrutar de un día de sol resplandeciente, participar en torneos deportivos, juegos en la piscina, festivales de la canción entre muchos otros, donde además, el equipo de animación prepara programas diarios, siempre diferentes y divertidos.

Todo el sabor inconfundible de MSC Cruceros también lo descubrirás en la tradicional cocina italiana e internacional y también en los sabores y aromas de la cocina regional y étnica de los países que visites durante tu crucero y elegir entre encuentros gastronómicos, aperitivos, cenas de lujo, cenas de gala o un encantador buffet bajo las estrellas.

MSC también es especialista en cruceros familiares, con innumerables actividades de ocio y diversión para los más pequeños, que son los invitados más especiales a bordo, donde disfrutarán de unos días divertidísimos y llenos de sorpresas, en compañía de nuevos amigos, a cargo de un personal altamente calificado y responsable que se ocupa cada día de que todos los niños se lo pasen en grande con programas especiales para todas las edades, torneos deportivos, juegos acuáticos en la piscina, maravillosas fiestas y donde también contarán con menús especiales de apetitosos platos y deliciosos postres. A bordo de los barcos de MSC Cruceros cada momento de tus vacaciones será inolvidable.