Family Cruises
Holidays with the family are the perfect way to have fun together and also seperated. That is why this family cruise is especially designed for you so each one of you could enjoy all the entertainment on board. Discover with us the best selection of family cruises which will guarantee you to have amazing holidays full of relax and fun for everyone. The boats are all innovated with spacious accommodations, delicious dinners, incredible shows and all for an excellent price.

The most cruise companies will offer you a wide range of family cruise deals, ideal for you and your family, with a variety of options and adventures for all ages, even the youngest and the adults which still remain young by their heart, with a really economic price for so many activities and destinations. Also a lots of the companies have some promotions and offers like special discounts during determined travel dates so you and your family could enjoy some perfect holidays.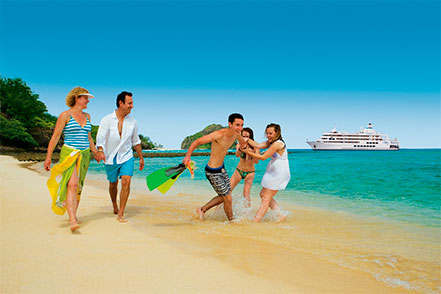 El alojamiento en los camarotes de tu crucero familiar dispone de todos los servicios para satisfacer las necesidades de toda tu familia, ya sea grande o pequeña. Desde espaciosos alojamientos para una familia de cuatro miembros, hasta increíbles suites para alojar a una familia numerosa. También te ofrece camarotes conectados y camas adicionales, previa solicitud, y algunas navieras también disponen de cunas para niños menores de tres años.

Las actividades a bordo están adaptadas a todas las edades y gustos. Los más pequeños siempre tendrán donde entretenerse e incluso aprender, siempre bajo la supervisión de un equipo integrado por profesionales con gran experiencia. Con una gran variedad de actividades diferentes todos los días. Los adolescentes también cuentan con su propio espacio de diversión, para que disfruten del crucero a su manera, con una gran variedad de actividades y clubes especialmente diseñados para ellos para que disfruten en grande.

En lo que respecta a la comida, siempre habrá algo adecuado para cada edad. Desde unas deliciosas hamburguesas o una rica pizza, hasta una noche formal en el Comedor principal, en cualquiera que elijas siempre dispondrás lo que desea comer tu familia, ya sea de día o de noche. Y mientras los más chicos se divierten tú también podrás hacerlo con las innumerables actividades diarias diseñadas para los adultos, disfrutar de una cena íntima, probar tu suerte en el Casino, bailar toda la noche, o sencillamente relajarte en compañía de tu pareja.

Con tantas opciones para cada miembro de la familia, lo difícil es elegir la mejor para ti y tu familia, es por ello que, pensando especialmente en ti y los tuyos, te ofrecemos las mejores alternativas de Cruceros en Familia para que disfruten en grande de unas vacaciones espectaculares.