Cruises - Departures from Barcelona
discover the amazing destinations from Barcelina in Spain, to get on board of this unforgetable adventure from their port, the mayor of Spain and the 5th cruise port of the world. Situated at the end of the Ramblas, the famous boulevard of Barcelona, next to Montjuic, which extends till the center of the city.

The port is with all kind of installations, which includes a leisure center with restaurants, shops, an aquarium that displays the marine species of the Mediterranean Sea and even an IMAX cinema to watch three-dimensional movies, has become one of the most reknowned ports in the world. It has a total of 9 cruise terminals, although the main ones are in the "World Trade Center Barcelona" Complex and other one which is called Moll Adossat. From this important port, sail many of the cruises to the most beautiful destinations of the Western Mediterranean to visit some of the most  beautiful and with more history of the world.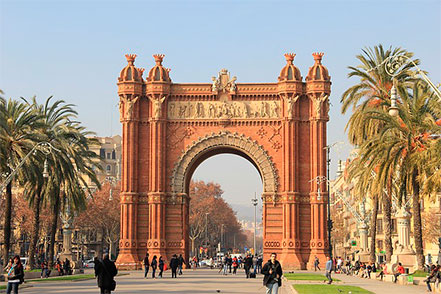 La hermosa y cosmopolita ciudad de Barcelona también te ofrece innumerables alternativas para tu esparcimiento y diversión antes de embarcar, todo depende de tus gustos e intereses, pero siempre descubrirás aquello que va bien con todos los gustos. Ejemplo de ello, y uno de los sitios más cercanos al puerto, es el monumento a Cristóbal Colón, de camino a la Plaza de Cataluña, el cual dispone de un mirador desde donde podrás admirar las maravillosas vistas que te brinda la ciudad.

Barcelona es particularmente famosa por la extraordinaria arquitectura de Antonio Gaudí, las cuales se encuentran esparcidas alrededor del centro de la ciudad. Su obra más impresionante es sin duda La Sagrada Familia, el inmenso templo, un imponente y ambicioso proyecto. Entre sus más famosos trabajos se encuentran la Casa Batlló y el Parc Güell, los cuales tendrás el inmenso placer de poder visitar y admirar.

También encontrarás en Barcelona muchos museos, como el Museo de Arte Contemporáneo, generalmente con excelentes exhibiciones o el Museo de Arte Catalán, muy hermoso por dentro y por fuera. Y no puedes dejar de visitar el Barrio Gótico, uno de los cuatro barrios que forman el distrito de Ciutat Vella de Barcelona, poseedor de los vestigios de la antigua Barcino, fundada por los romanos hace dos mil años, una de las ciudades europeas de mayor esplendor en la época medieval, donde descubrirás la historia de la ciudad de Barcelona y te impregnarás de su sobrecogedor ambiente.

Y si de ocio nocturno se trata, Barcelona es un referente mundial gracias a sus miles de terrazas, modernos bares y prestigiosas discotecas. La Ciudad cuenta con todo tipo de ocio nocturno para satisfacer a los visitantes más exigentes que desean pasar una excelente y divertida noche. ¡No lo dudes! Inicia tu crucero ideal desde esta hermosa ciudad cosmopolita y no te arrepentirás.