Cruises - Departures from Miami
Miami is a fascinating cosmopolitan city in the South Florida in the United States and one of the most popular tourist destinations in the world. An ideal place to start your spectacular trip on board of the cruise of your dreams.

    Port Dante B. Fascell in Miami-Dade County, Florida, is a port located at Biscayne Bay and well known as the Port of Miami. One of the most important in the international area and known as the Capital of the World Cruises. Their 7 different terminals have the representation of the the most prestigious companies in the world that sail through these waters of the Caribbean, such as Carnival Cruise Lines, Norwegian Cruise Line and Royal Caribbean International, are just some of the many companies, which has millions of passengers every year.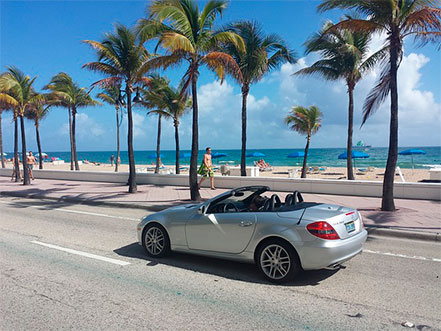 Su situación geográfica excepcional lo convierte en un puerto único y le permite, sin lugar a dudas, tener la más amplia gama de destinos y cruceros del mundo. Su cercanía a muchos importantes puertos del continente americano y sus salidas desde el mar Caribe, lo hacen el lugar perfecto para iniciar cruceros por el Caribe Occidental y el Caribe Oriental, con rutas de asombrosa belleza, con escalas en ciudades como San Juan de Puerto Rico y Santo Domingo en la República Dominicana. O igualmente impactantes destinos como las Bahamas, las Antillas y Granadinas. Rutas hacia Islas idílicas como: Antigua, Barbados, Santa Lucía, Saint Maarten y Saint Thomas, todas, paradisíacas islas del Caribe, y maravillosos destinos más.

Miami es diferente al resto de las ciudades estadounidenses, con un espectacular clima durante casi todo el año. Aunque sus playas son su mayor atractivo, es una ciudad que tiene mucho más para ofrecer. Previo a tu embarque puedes disfrutar de un hermoso día visitando el Parque Nacional de los Everglades; pasar un día divertido en Jungle Island; conocer la Pequeña Habana; o disfrutar de una refrescante bebida en alguna de las terrazas de Ocean Drive y sentir el animado ambiente de South Beach. Y si quieres disfrutar de unos divertidos días, antes de iniciar tu crucero, conociendo verdaderamente esta impresionante ciudad, puedes hospedarte en hermosos y variados hoteles con precios accesibles para cualquier presupuesto y pasártelo genial asistiendo a eventos donde se refleja su hermosa diversidad cultural; ir de compras a sus grandes centros comerciales o disfrutar de su animada, divertida y bulliciosa vida nocturna, colmada de un increíble ritmo y sabor latino.