Cruises - Departures from Venice
Venice is one of the main cruise centers in the Mediterranean, with more than one thousand cruises and more than one million cruise passengers per year. Venice is currently the thirteenth most active cruise port in the world and the third busiest in Europe. The Venice Cruise Terminal (Venezia Terminal Passeggeri) is located at the end of the four-kilometer road connecting Venice with the rest of Italy.     The port of Venice is not directly at the Mediterranean but it is located in the lagoon of Venice, which joins the Adriatic Sea by the narrow channel called Puerto de Lido.     The Venice Cruise Terminal is home to more than twenty cruise companies, including MSC, Royal Caribbean, Carnival and Norwegian Cruise Lines. Among them, cruise ships offer a huge variety of cruises from Venice.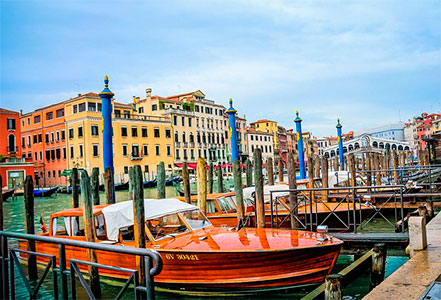 Cruises from Venice generally focus on three areas, the Adriatic Sea, with the beautiful coast of Croatia and Montenegro, the Aegean Sea, with the spectacular Greek Islands and Turkey with Istanbul.       When you choose a cruise from Venice, you are already in one of the most spectacular and beautiful cities in the world. So be sure to spend at least two or three day to enjoy the wonderful Venice. The most famous buildings of Venice are the St. Mark's Square, the Basilica, the Doge's Palace and the Campanile. They are from the end of the tenth centur and in the following three hundred years they underwent numerous improvements and remodeling.       Do not miss out this wonderful city and the great variety of options the Cruises from Venice has to offer you.